Operation Thank-A-Vet: Our Mission
Operation Thank-A-Vet is a local church ministry of the Blessed Hope Baptist Church of Jasonville, Indiana. The purpose of this unique ministry is simple: our membership desires to be a source of blessing and encouragement to the men and women of our country's armed forces. We will seek to do this through the following efforts:
1. Every month, men in our church – many who are themselves veterans – will schedule a visit to a group of veterans in our community. This will include National Guard units, military reserve units, V.F.W.s, veteran's hospitals, and other places where active military or former military men and women gather.

2. During these visits, we wish to shake the hands of those who are or have served our country and thank them for their sacrifice and service. We also wish to place in their hands a gift of appreciation from the members of Blessed Hope Baptist Church.

3. We also will be actively engaged in sending these gift packets of appreciation to those members of our armed forces who are presently deployed on foreign soil, protecting our interests.

4. Our members will also carry these gift packets with them in their vehicles as they conduct their daily business throughout the community. As the Lord allows us to cross paths with veterans, we will take the opportunity to thank them, and present them with a gift packet.

5. The members of Operation Thank-A-Vet have wholly committed themselves to pray daily for the men and women who honorably serve in our armed forces. We are thankful to God for the blessings and freedoms that He has allowed us to enjoy as Americans, and are thankful also to those who stand guard over those freedoms.

6. As Christians, it is our prayer and wish that every American becomes aware of the freedom that is found only through Christ Jesus. Along with our thanks, we wish to deliver the Gospel message whenever the Lord so allows.

7. We also provide and maintain this helpful and encouraging web site. Visit this site often as we will continue to add to it. Let other veterans know about www.operationthankavet.org !!!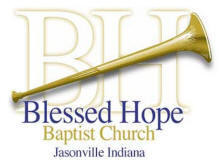 Blessed Hope Baptist Church • 9251 N. State Road 59 • Jasonville, IN 47438
Copyright © 2006 Blessed Hope Baptist Church. All rights reserved.