Render therefore to all their dues: tribute to whom tribute is due; custom to whom custom; fear to whom fear; honour to whom honour. Rom 13:7
A SPECIAL VIDEO PRESENTATION
FOR AMERICAN VETERANS
Please be patient this will take several
seconds to load and play even with a
high speed internet connection.
A local church ministry of
Blessed Hope Baptist Church
Jasonville, Indiana
If you are unable to view the video
online, please request a CD of the
presentation at our

page.
We will be happy to send one as a gift to you.

---
Honoring the men and women who defended and continue to defend our nation!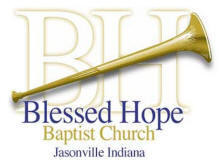 Blessed Hope Baptist Church • 9251 N. State Road 59 • Jasonville, IN 47438
Copyright © 2006 Blessed Hope Baptist Church. All rights reserved.